Ugly Muffins (Secret Recipe Club)
I had to rename this recipe.  I just had to.  I give them that name in the most loving way and with the best intentions.  These muffins aren't pretty, but they are oh so delicious.   Moist, sweet, filling.  They're full of healthy stuff like whole wheat flour, flax seed meal, and wheat germ.  Add in some carrots and apples and you have a full-on feast!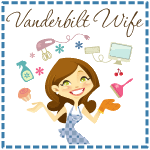 I made the muffins as part of this month's
Secret Recipe Club
.  We took the month off in January and I really found myself missing it.  My assigned blog for February was
Vanderbilt Wife.
  Jessie is a stay-at-home-mom/writer who blogs about her life, her food, and her kids.  Her tagline sums her up best: "Trying to be the housewife I'm not."  I love that, because isn't that something so many of us strive for?  We work, we cook, we clean, we care for our kids, we run the house, we do everything.  Yet we still try to be "better" or "more".  Always trying to improve ourselves.
So, the muffins.  Jessie has a lot of great recipes but I've been specifically looking for a muffin recipe that I can freeze and have for breakfast in the mornings.  Her Chock Full of Healthy Muffins fit the bill perfectly.  They are full of fiber so just one with a little bit of fruit on the side is a great filling breakfast.  I've been eating them all week and refuse to share.  Next time I'll add some raisins because I feel like that's the only improvement on them that I should make.
Here's how I made them:
Ugly Muffins
From Vanderbilt Wife
Ingredients:
1 cup all-purpose flour
1/2 cup whole wheat pastry flour
3/4 cup flax seed meal
3/4 cup wheat germ
2 tsp baking soda
1 tsp baking powder
1/2 cup brown sugar
1/4 cup maple syrup (I used pancake syrup…stop judging me)
2 Tbsp honey
1 tsp salt
2 tsp cinnamon
3/4 cup milk
2 eggs, beaten
1 tsp vanilla
2 Tbsp coconut oil
2 cups shredded carrots
2 apples, shredded
1/2 cup chopped pecans
Directions:
In a large bowl, combine flours, flax seed meal, wheat germ, brown sugar, salt, baking powder, baking soda, salt, and cinnamon.  Whisk to combine.
In a medium bowl, stir together syrup, honey, milk, eggs, vanilla, oil, carrots, apples and pecans.
Add the wet ingredients to the dry ingredients and stir together until just combined.  Pour into lined muffin tins.  Bake at 350 degrees for 18-20 minutes, or until a toothpick inserted into the center comes out dry.
Makes 18 muffins.
Proudly linked up to Today's Creative Blog and others.
Like this post? Please click on over and leave a comment. It would make my day!