These are so cute I can't stand it. I got the inspiration for these taco bowls from this recipe. I thought they'd be a great way to encourage my preschooler to eat tacos because it's a fun presentation and edible bowls are always pretty awesome. And it actually worked! Granted, he eat the meat out of the bowl, but at least he ate it, right?


Ingredients:
Eight 6-inch flour tortillas
1 lb ground turkey
2 Tbsp taco seasoning (we prefer Penzey's, but whatever you have will work)
1 can corn with red and green peppers, drained
1/2 cup refried beans
Salsa, cheese, and sour cream, for garnish
1. Preheat oven to 350 degrees.
2. Microwave tortillas 30 seconds. Line each of 8 muffin cups with 1 tortilla, carefully folding back the edges, leaving an opening in the center for the filling.
3. Bake the empty tortilla for 10 minutes. Meanwhile, brown the ground turkey in a large skillet with the taco seasoning and about 1/4 cup water. Add the corn and simmer until corn is heated through.
4. Spoon about 1 Tbsp refried beans into the bottom of your tortilla cup, and top with meat mixture.  Spoon cheese, salsa, and sour cream on top, if desired.
This post is linked to You Made That
and
and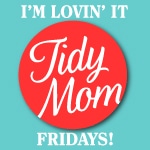 and

and
and
and
and
Like this post? How about a Stumble?
Like this post? Please click on over and leave a comment. It would make my day!